The science bit...
Your body's resources - oxygen and blood - are directed mainly to your stomach to aid digestion. Digestive juices are released in your mouth and stomach and your heart rate drops. Bronchial tubes in your lungs constrict as you need less oxygen in the absence of physical exertion. Your muscles relax and the pupils in your eyes constrict as levels of alertness drop.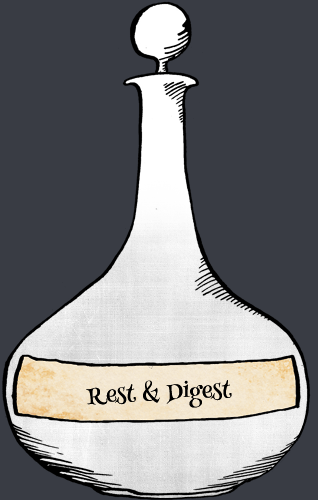 The Brain's "Love Drug" promotes feelings of love and reduces anxiety.
The Brain's "Mood Drug" enhances the positive effects of the other drugs.
The Brain's natural "Tranquiliser" creates a sense of satisfaction and relaxation.
Conquering Conflict
Feeling confident, relaxed and loved means that this is a good state in which to talk and listen.
Deep breathing exercises, getting some fresh air or chilling to your favourite band, can ease us into this relaxed state.
Caution
It can be tricky if other people are reacting differently because they are in another emotional state. Find a time when you are both open and willing to talk about what you need from each other.