A day out at the SCCR Conference
09 Apr 2020 By Pupils from Dalziel High and Mrs Nielsen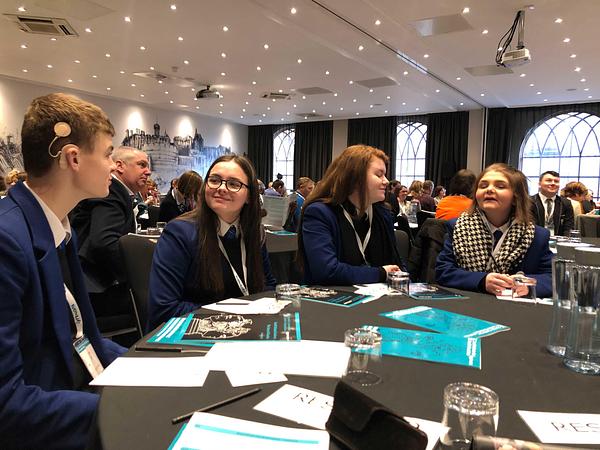 Hello!
We are four S4 pupils from Dalziel High School in Motherwell. Our teacher (Mrs Nielsen) was showing us some new video clips from SCCR when we quickly realised that there were no sub-titles.
Sub-titles matter to us because we are deaf, and we wanted to understand what the messages were. So we emailed SCCR and asked why there were no subtitles. We received a reply to say that they would try to do something about this…
Very soon we heard back from SCCR that they had some students from Napier University working on the materials. We then received an invitation to their 2020 Conference in Edinburgh.
We had to get permission slips from our parents and initially, we were going to take the train from Motherwell to Edinburgh. However, Mrs Nielsen decided to take her son's car (which is a jeep) so that we could spend more time at the conference.
Andrew from the SCCR met us in the car park (after Mrs N's dodgy parking) and took us to the conference. Andrew gave us our delegate passes.
We couldn't believe the number of people attending, but we were very pleased that we had a seat at the front. Dr Vanessa Collinridge was speaking and then she came and asked us questions when she was getting udience contributions. That felt a bit embarrassing, but we managed to speak out. The break was so good as we had lots of things to eat and drink: it felt very grown up.
Then there was a workshop with Andrew and Duncan from the SCCR where we looked at the new "homunculus" cards and talked about feelings and emotions and the effects on the body. Again we all spoke out and we really enjoyed that.
Lunch was a high point of the day because the food was delicious (even better than a half-pizza crunch which is Jamie's favourite) and then we went to the "Brain Box" chill-out room which had been set up for us by Yvonne from the SCCR. This was relaxing and fun and we even had more sweets and popcorn. Brilliant!
After lunch we heard Callum Hutchison speak about his difficult childhood. This had some of us in tears as he had been through such a lot, but he is now in a much better place and is trying to help other people who are living with conflict. We think he should be really proud of himself and we would like him to come to our school to speak to all of the year groups. We had our photos taken with Callum and also with Maree Todd who is the Minister for Children and Young People.
Then, Gordon Jackson QC from the Faculty of Advocates had spoken about the legal system in Scotland (while wearing Diane's glasses, due to a malfunction with his own) it was time for us to leave. We popped downstairs for some more snacks in case we got hungry on the way home and then Mrs Nielsen dropped us all off at our houses.
Before we went to the conference, we weren't sure what it would be like, but we had an amazing time. We felt as though people really wanted us to be there and to hear what we thought about the materials which can be used to help young people understand what conflict is and to find better ways of dealing with it in their lives. The two quizzes "Monkey V Lizard" and "Keep the Heid" are really good, and now that the video clips have sub-titles, we think that all young people in Scotland should have the chance to look at them.