NATIONAL CONFERENCE 2020
The Faces of Transition
Inspired by the Roman God 'Janus', The Faces of Transition event explores the themes of beginnings, transitions, time, duality and how your past can impact your future but does not define us.

Headline Statistics -
National Survey 2023
42% of young people say that conflict at home happens at least weekly
61% of young people agreed it would help to feel better supported in their family relationships
72% of young people would find it helpful to deal with or manage family arguments/disagreements better
63% of parents/carers felt family argument disagreements had negatively impacted their mental health and wellbeing
79% of parents/carers agreed it would help to feel better supported in their family relationships
78% of parents/carers did not know or weren't sure of mediation services for young people and families in their area
74% of professionals/practitioners stated that homelessness & sofa surfing was frequently experienced by young people they work with
85% of professionals/practitioners said conflict was a regular occurrence for in families they worked with
40% of professionals/practitioners felt they didn't have the skills/knowledge to address conflict between the young people and families they work with
Change is Possible
Callum Hutchison was born and raised in a very challenging environment in Glasgow's east end. His early life was one of trauma which resulted in low aspiration, exclusion, fear, addiction and crime. Both as a perpetrator and victim, Callum was no stranger to violence and prison was a regular destination for him. Life changing interventions from people and organisations he thought would be the last to help him has resulted in Callum turning his life around.
CALLUM HUTCHISON
VIOLENCE REDUCTION UNIT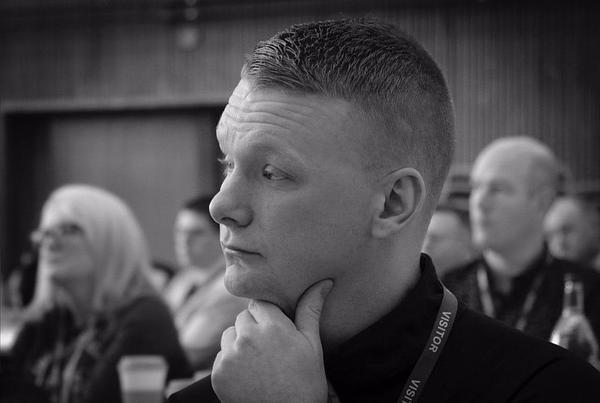 The SCCR and the Faculty of Advocates. Different approaches with a common purpose
Gordon is regularly instructed as defence counsel across the full gamut of criminal practice, including trials and appeals. He is held in high respect for his no-nonsense practical approach coupled with his eloquent oratory and dexterity in interpreting key relevant facts of a case. Together these skills ensure Gordon's reputation as a well instructed and feared opponent at the Criminal Bar.
GORDON JACKSON QC
FACULTY OF ADVOCATES
DEAN
Ministerial Address 2020
Maree Todd grew up in the West Highlands, attending Ullapool High School and then studying pharmacy and prescribing at Robert Gordon's and Strathclyde, as well as taking an ante-natal teaching diploma at the University of Bedfordshire. A pharmacist by profession, Todd worked in NHS Highland for 20 years, mainly as a mental health pharmacist in a psychiatric hospital. She also contributed to SIGN guidance on perinatal mental health.
MAREE TODD MSP
MINISTER FOR CHILDREN AND YOUNG PEOPLE
"Is Anybody Out There?"
Dr Vanessa Collingridge is an award-winning broadcaster, writer and academic specialising in science, environment and history. She has lived and worked on all 7 continents, with numerous books and credits including BBC, ITV, Channel 4 & 5, ABC, Discovery and The History Channel. Vanessa believes passionately in the value of communication to break down social, cultural and intellectual barriers.
DR VANESSA COLLINGRIDGE
MONSTER MEDIA PRODUCTIONS
Love is all you need...
Ewan is CEO of Cyrenians, a charity tackling the causes and consequences of homelessness. Born in Dunfermline, Ewan has over 30 years' experience working in the public and third sectors. Alongside his position at Cyrenians, he holds a number of roles, including: co-chair of the Edges of Care workgroup for the Independent Review of Care; member of the Scottish Governments Rapid Rehousing Transition Plans Delivery Group; member of the Regional Council of the Edinburgh and South East Scotland City Regional Deal. In 2018, he received the SCVO Charity Awards Leading Light Award.
EWAN AITKEN
CYRENIANS
CEO
Transforming the emotional and human cost of conflict
Diane leads on the strategic development and delivery of the SCCR and is passionate about developing collaborative and supportive relationships to ensure the SCCR as a national initiative, brings about positive change for families and young people across Scotland. She has a first class honours degree in Social Policy, a diploma in Criminology and achieved certification in Leadership and Management. Diane trained and qualified as a mediator and practiced for over 16 years and has a proven track record of professional expertise, an experienced mediation trainer and has supported and supervised other mediators.
DIANE MARR
SCCR
NETWORK DEVELOPMENT MANAGER
When the Mind is Still the Heart can Speak and be Heard
Natalie Young began her journey in her field in 1997 when she trained as a mediator and used her skills to help people build better relationships, externally, with others. In 2014 Natalie trained as a yoga teacher and now uses yoga philosophy to help people have better relationships with themselves, internally, then others. Creating strong bodies, beautiful minds and grateful hearts.
NATALIE YOUNG
PEACEFUL ALCHEMY
FOUNDER AND EXECUTIVE DIRECTOR
Hugely relevant for today's issues and gives hope that you can contribute to change. Very interesting and inspirational organisation that I would like to learn more about.

PROFESSIONAL/PRACTITIONER, THE FACES OF TRANSITION 2020
Inspiring, Challenging, Re-inforcing and restores my faith and belief in how we should all be. Feel energised even at the end of the day.

PROFESSIONAL/PRACTITIONER, THE FACES OF TRANSITION 2020
Thank you so much for inviting my group of pupils. They have had a wonderful time and are feeling very grown up. I am trying to persuade the Pupil Support staff to incorporate the digital resources into the PSE programme for S3/S4

PROFESSIONAL/PRACTITIONER, THE FACES OF TRANSITION 2020
Upcoming events
SCCR Conflict Resolution Online Course - Untangling The Knots
27 November 2023 - 12 December 2023 | 10:00 - 12:30
PARENT/CARER EVENT- Conflict Resolution Series - Resilience: Bouncing Back
16 January 2024 | 19:00 - 20:00
PARENT/CARER EVENT - Conflict Resolution Series - Difficult Conversations
25 January 2024 | 19:00 - 20:00
SCCR Conflict Resolution Online Course - 'Untangling The Knots'
5 February 2024 - 21 February 2024 | 10:00 - 12:30
PARENT/CARER EVENT - Conflict Resolution Series - Understanding Anger
6 February 2024 | 12:00 - 12:45
PROF/PRACT/VOL EVENT-Conflict Resolution Session -Difficult Conversations
20 February 2024 | 08:30 - 09:15
See all events