Exploring the Scottish Mental Health Arts Festival Theme of Perspective
26 May 2020 By Hannah Foley, Health Care Professional and Illustrator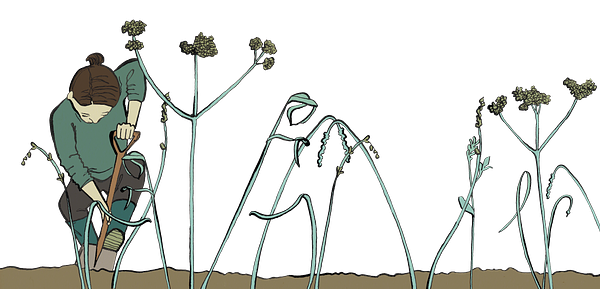 In the past I have wrestled with the idea that I should have some sort of core, unshakable identity that isn't shaped by the things I do or by my circumstances. But when everything is stripped away, all I could ever say about myself was that I was a human being, taking twelve breaths a minute on planet Earth. And that's just the same as everyone else! The fact is our identities are made up of the things we do, our circumstances, and our interactions with others. But what if I can't do the things I'd like to and the power to control my circumstances has been taken away from me? Or the path to becoming who I'd like to be has now become closed to me? Who am I then?
During these strange times, questions like these have been especially hard to answer for people who were part way in to something. If you've lost your job as a trainee hairdresser, are you still a hairdresser? If you were about to do your Highers and are now reliant on some dismal predicted grades for your next step, does this define you? My debut children's novel was due to come out in June, but publication has been pushed back to next year, and Covid-19 has shot a hole through the publishing industry. What does this mean for me, and for my sense of myself as a writer?
When Covid-19 has caused doors to be slammed in your face it's hard to stay solution-focused. You've turned it round and round, and whichever way you look at, you can't find a way forward. One of the tactics I use for coming up with solutions is to do something really sensory. Bear with me, it's not as hippyish as it sounds!
In our society we talk about our minds and bodies as two separate things, often in conflict with each other. But most creative people will tell you this just isn't true. Our minds and bodies are deeply connected. I don't know one writer who wouldn't advocate going for a walk when you get stuck. The novelist Stephen King prioritises going for a walk every day. Other artists and writers I know swim in the sea, take a bath, knit, sketch or go for a run. For me, I love to go out on my bike, or do some digging on my allotment. It needs to be an activity that takes over all your senses, leaving no room for angst or ruminating on the "what-ifs" of your dilemma.
As I push my spade into the earth, I'm not thinking consciously about anything other than the sun on my back and the physical motion of turning over the soil. It's immersive. And when I straighten up and look back over the freshly dug patch, I can almost guarantee you that I've got the beginnings of an idea forming, a chink of light under a door I hadn't noticed, the first baby steps on a way forward.