Keep the Heid and Read
For Mental Health Awareness Week, we're supporting the Scottish Library and Information Council's Keep the Heid and Read campaign. We look at how reading can help mental health - and our own campaign also called Keep the Heid!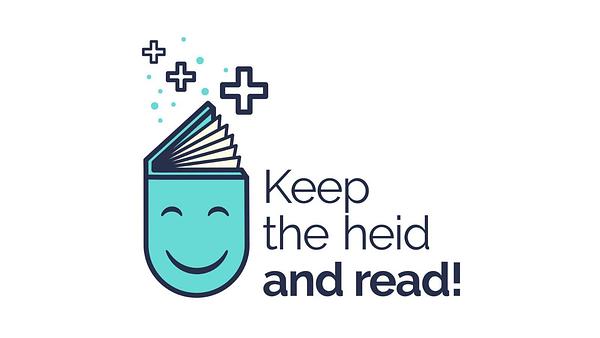 Reading, studies have shown, can have an appreciable effect on improving mental health. One study (by researchers at the University of Sussex, published in 2009) suggested stress levels could be reduced by as much as 68 percent by reading for as little as six minutes. In terms of time needed and effort required, that's a good return.
We're joining other Scottish organisations in asking members of the public to pledge six minutes of their time to read on Wednesday 11 May. We're pleased to give our support to the Scottish Library and Information Council's Keep the Heid and Read campaign; other supporters include mental health charities, booksellers and libraries. What you read is up to you; it can be anything from a blog to a novel to a comic. The important thing is to read, and to read for yourself, for pleasure. Taking time to do something that relaxes you and that you enjoy, perhaps like reading, helps to protect mental health.
We were drawn to Keep the Heid and Read campaign not only because, as confirmed bookworms, we love to see reading promoted. We have our own Keep the Heid development, which also focuses on mental health. There is something so resonant for Scottish audiences about the phrase 'keep the heid', it works on several levels, which is no doubt why we and SLIC were drawn to it.
Our #KeepTheHeid campaign, which is still available and free to access through our website, looked at the science of 'flipping your lid', at how anger can take hold of us…and what we might do to take back control. Anger is often the reaction covering up other emotions such as feeling unheard, lonely, sad or unloved. It can take us anywhere between 20 and 30 minutes to bring ourselves back after we experience anger. Given the possibility of damaging relationships when angry, it's important to recognise the signs and to cool down. The SCCR #KeepTheHeid campaign has a fun quiz you can take that explores what happens under your 'lid' as well as resources that explore 'flipping your lid' further.
Keep the Heid and Read takes place on Wednesday 11 May. You can learn more about here. #KeepTheHeid's quiz can be found here and its resources can be found here.