Making an Exhibition of Ourselves
From Wednesday 1 March onwards, visitors to Glasgow Science Centre (GSC) will be able to check out a new mini-exhibition that showcases our work.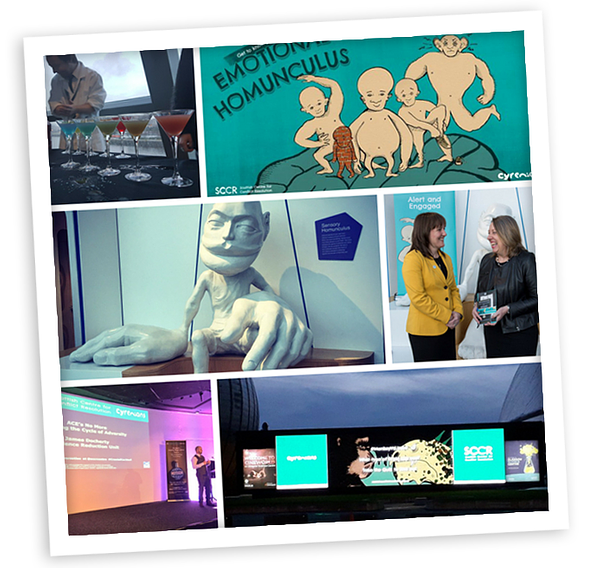 We're making an exhibition of ourselves! From Wednesday 1 March onwards, visitors to Glasgow Science Centre (GSC) will be able to check out a new visually arresting mini-exhibition that brings together all four of our 'Brainy Stuff' resources. The mini-exhibition will be housed in Glasgow Science Centre's entrance hall, where the public will be able view it as they begin exploring the building.
Using SCCR's original illustrations (created by illustrator and author Hannah Foley), Glasgow Science Centre have created a mini-exhibition where figures familiar from our digital resources step off the monitor.
The mini-exhibition brings together psychoeducational resources developed by SCCR. Each resource promotes knowledge of mood regulation in a fun, quirky way.
Visitors to the GSC who like the mini-exhibition and want to learn more about the SCCR's work will be able to if they have a mobile, with QR codes on the mini-exhibition taking visitors directly to each of the resources spotlighted.
Our collaboration with Glasgow Science Centre marks the latest round in our ongoing campaign to find fresh ways to connect with the young people and families who would benefit from using our resources.
While informed by science, our work isn't weighed down by jargon. We mirror society through an increasing awareness of the importance of Emotional Health and Wellbeing (EH&WB), and are increasingly building aspects of EH&WB it into our work.
The SCCR tackles the causes and consequences of homelessness through workshops and digital resources that explore the issue within the context of the science of conflict. Each year in Scotland, 5,000 young people present as homeless, the equivalent of five high schools-worth of children. What can we do to roll back those numbers?
With a focus on conflict resolution, mediation and early intervention work, the SCCR was set up to reduce youth homelessness by giving young people and their families the skills to defuse tension within the home. The SCCR concentrates on helping families strengthen their bonds because relationship breakdown is cited as the most common reason for young people leaving home without somewhere to go onto.
The first three months of the year are looking busy for the SCCR. In addition to the GSC mini-exhibition launch, we're also holding a reception on Wednesday, 15 March, in the Scottish Parliament, celebrating our work. Two days later we're holding an event during British Science Week, a collaboration with Heavy Sound, a charitable organization based in East Lothian whose innovative projects for vulnerable and disengaged young people improve social, emotional, and educational attainment, leading to improved health, wellbeing and future life chances.
Keep an eye on our website for updates on our activities across 2023.