My experience of SCCR's International Conference: A blog by Drew Drummond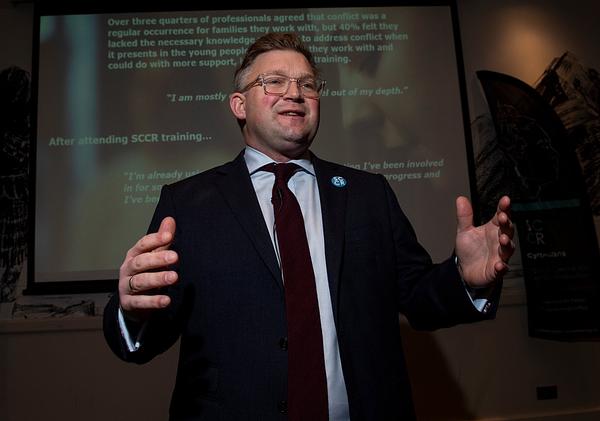 The following blog is by Drew Drummond, who hosted the 'Permission to feel' webinar alongside Sarah Philp, as part of SCCR's International Conference: 'Connections & bridging the divide' which took place throughout October 2020.
When I think back to the beginning of April 2020, my memories are working out what lockdown might look like for my family, how to run my work digitally and from speaking with the impressive SCCR Team, asking ourselves the question – do you think we could run an International Conference in 2020 as opposed to our usual in-person Annual Conference?
I felt vulnerable over the above questions but that feeling of wonder and excitement – that in spite of all that we are dealing with, could we make the most of this challenge or opportunity, depending on how you looked at it.
I have always believed passionately in the great work of the SCCR. A team who are small in number but magnificent in reach and impact.
This International Conference was our time. Our opportunity to step up, go big, be bold and proud of our shared work with our impressive network of courageous and kind contributors.
…I don't want to ruin the ending but we did it! It wasn't in straight lines but for the month of October we delivered 11 events online and connected with 12 international countries. Incredibly, we reached far more people than we ever could have physically in our standard conference format.
I have the privilege to be a Cyrenians Ambassador with a particular focus on supporting the work of the SCCR. From standing in Scottish Parliament in 2014, asking for help to make sure Young People, Parents and Professionals' could choose how they navigate and deal with conflict in a positive way to 2020 to writing this blog to recognise and celebrate giving other people in other countries help, support and the offer of hope in many different ways to model approaches in how to deal with conflict, whoever and wherever you are, right here, right now. By way of a story through the impact of Covid-19 – this one is significant.
So, what did we learn from this, our first, International Conference?
When you move from a position of 'I' to 'We' – good things can and do happen.
It would have been easier to stand down and not deliver blaming the impact of Covid-19. The trust of the team to back themselves, reach out to our network individually and to pull together a series of workshops and panels which could nurture, signpost and offer support to our community and internationally, when they needed it the most. I will follow the example of the SCCR going forward, this has helped myself and my own mindset in breaking the cycle of trying to control that of which I have no control.
Feel the Fear and do it anyway.
In times of uncertainty it is easier to go in on yourself, I share this from first hand feeling and experience through lockdown. It helped my own health and well-being that as a collective, we pulled together, learned new things and ultimately played to our strengths as opposed to closing down. Personally, I will always be grateful for this gift during lockdown.
It is a connection, it is not a connection as we know it but it is a connection nonetheless.
We all miss the social connection of interdependency and finding ways forward, together. The International Conference experience has taken this to a whole new level, yes, the connection is different but still a connection. Through this connection we found great hope, not just for ourselves but the hundreds of people around the world with whom we, the SCCR got to reach-out, say hello and connect to deal with conflict.
In the words of Vaclav Havel; "It is hope above all which gives us the strength to continually try new things."