Perspective, mental health and art with SMHAF artist Lauren Stonebanks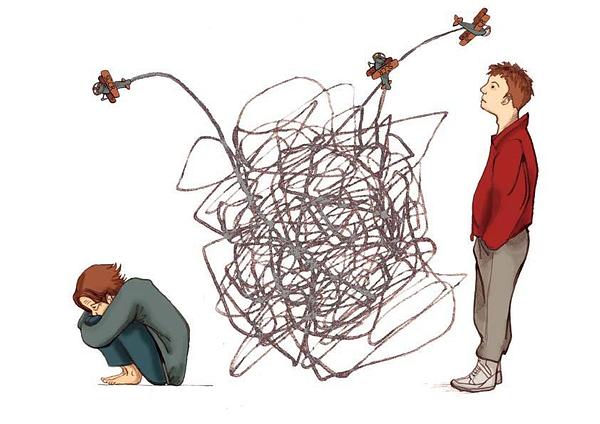 Perspective. A word that is rooted in the Latin meaning "look through." A word that evokes many interpretations as it's how we, as unique and complex individuals, see something. How we perceive our own and other's emotions, situations, relationships…
The SCCR has explored this word in relation to the arts and wellbeing with Lauren Stonebanks, a talented artist who was part of the Scottish Mental Health Art Festival's team who decided on 2020's theme of 'perspective.'
Like many who experience mental health symptoms since childhood without receiving support, Lauren believed she was weak and simply oversensitive.
Since being diagnosed with Borderline Personality Disorder (BDP), Lauren has projected her experiences into various artworks that have helped people to understand BDP, which affects how you think, feel and interact with others.
The Edinburgh-based artist is now an advocate for mental health who challenges stigmas surrounding Borderline Personality Disorder. In 2013, Lauren was one of the founders of the annual Out Of Sight Out Of Mind mental health art exhibition that takes place every year at Summerhall, the art complex located in Edinburgh, and she has "been making mental health based art ever since."
Her piece for the 2014 Out Of Sight Out Of Mind exhibition was a series of hand bound books. In these books, Lauren reflected upon her mental health experiences and detailed her personal perspective of how BPD had affected her life.
What began with 'The Little Book Of BPD', 'The Little Book Of Drugs', 'The Giant Boom Of Side Effects' soon grew into a 15 piece artwork with many other hand written and bound books due to the visceral response of the exhibition's visitors.
Shortly after, the series were compiled into one book and self-published. 'Keep Calm And Take Your Meds: An Omnibus Of Lunacy' can be found in many libraries and Police Scotland have a copy that officers find helpful when interacting with an ill person.
Lauren says; "Mental health touches every single aspect of your life in my experience. I find art to be an excellent medium for explaining my mental illness to others. It's been the basis of many of my pieces and people often comment on how it helped them understand something in a way words couldn't."
As well as using her art to explain the practical and emotional challenges of living with BPD to others, Lauren also uses art to get something out that she can't express in any other way.
She says; "A lot of my art is very angry according to some people. I'm not very good at expressing anger outwardly. Maybe that's why my art is that way."
"Other art, not so much. It's not what I imagined it would be but then I'm not what I imagined I would be."
How do you express anger? The SCCR can help you find out.
The SCCR have infused art into our innovative resources to help people gain a better understanding of their brain's chemistry, emotions and reactions. By using engaging visual animations and expressive illustrations, we break down complex scientific ideas in our psycho-educational digital resources that are free, readily-accessible and suitable for young people, parents/carers and professionals alike.
Improve your self-awareness by exploring our digital resources here: https://scottishconflictresolution.org.uk/brain