Transforming Conflict, Improving Lives: a new report by Cyrenians Scottish Centre for Conflict Resolution
The SCCR launches a new report covering the service's work over the past seven years while looking to its future.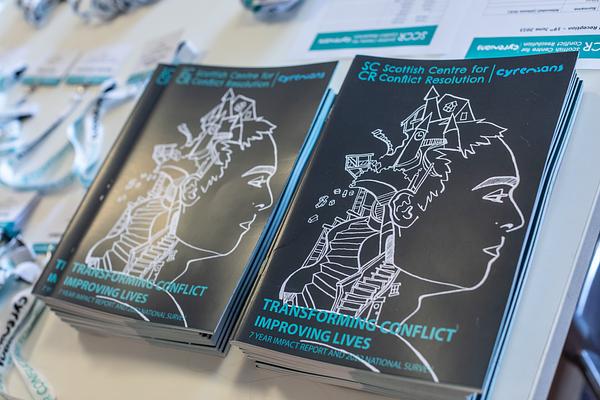 Monday, 19 June, is a very special day for Cyrenians Scottish Centre for Conflict Resolution. Four years have passed since our last reception, Covid and other unforeseen circumstances intruding to postpone a reliable highlight of our calendar. Nevertheless, the SCCR team will be present on the evening of 19 June at Edinburgh's City Chambers where we shall launch our new report Transforming Conflict, Improving Lives: 7 Year Impact Report and 2022 National Survey.
Before an invited audience of politicians, funders, supporters and young people, our reception will recap the work we've completed over the past seven years and look to our future. We shall discuss the activities we plan to undertake over the next few years, as well as sharing the results of our recent national survey.
We're delighted, then, that the reception will be addressed by the Scottish Government's Minister for Housing Paul MacLennan MSP; we look forward to hearing his thoughts.
The report, in part, breaks down the past seven years into statistics. In addition to consistently positive evaluation feedback from the young people, parents and carers, and professionals who have experience of our work, the report shares information such as people in 187 countries (including the USA, China, Germany, France, India and Australia) have digitally engaged with our service.
We've made media appearances on ITV News, The Herald newspaper, and BBC Radio Scotland's Brainwaves show. The report details how we've increased our involvement in public engagement events such as The Big Lunch, Scottish Mental Health Arts Festival, Dundee Science Festival and British Science Week. We also chronicle how we responded to the Covid pandemic and lockdown.
The report goes on to discuss the results of our national survey, our first since 2019. We revealed the highlights of our survey in April, which you can still read about in this earlier blog. It's worth recalling, now, the chief findings from the survey include the stat that 19 percent of young people have thought about leaving home due to arguments at least on a monthly basis, while 39 percent of young people and 62 percent of parents say that conflict at home happens at least weekly.
While relationship breakdown remains the leading reason for youth homelessness in Scotland, the SCCR's survey demonstrates a majority of the young people and their parents / carers who responded want to better manage family relationships, which is why the SCCR remains necessary now and into the future.
Over the next year, the SCCR plans to tackle youth homelessness by:
working with local authorities to deliver events and resources for young people as part of the Curriculum for Excellence (Health and Wellbeing) ensuring that whatever a young person has experienced, Adverse Childhood Experiences (ACEs) and trauma are understood.
embedding the United Nations Convention on the Rights of the Child (UNCRC) in its activities through involving more young people in the design and delivery of our service.
continuing its strategic, lifetime approach to improving mental health, in line with the Scottish Government's Mental Health Strategy 2017-2027.
working with partners on digital platforms with multimedia content and psychoeducational resources that share our experience of developing innovative digital delivery.
To see a copy online of Transforming Conflict: Improving Lives, click here.